---
It's extremely critical that emotional awareness and good habits are taught at an early age because as an adult, it's difficult to build them. We at AmbiClass, imprint powerful habits such as gratitude practice, goal setting, keeping mind and body healthy etc in a fun and interactive sessions.
Moreover, financial literacy needs to become the integral part of our education curriculum. Financial problems are not fixed with money but with financial education. We teach the financial concepts through our well-structured and easy to understand workshops.
Enrollment in the P3 workshop will certainly put you miles ahead by inculcating powerful habits, managing social influence and implementing financial literacy! 
Age: 10-18 Yrs | English & Hindi Mix
---
---
SKILL DEVELOPMENT PROGRAM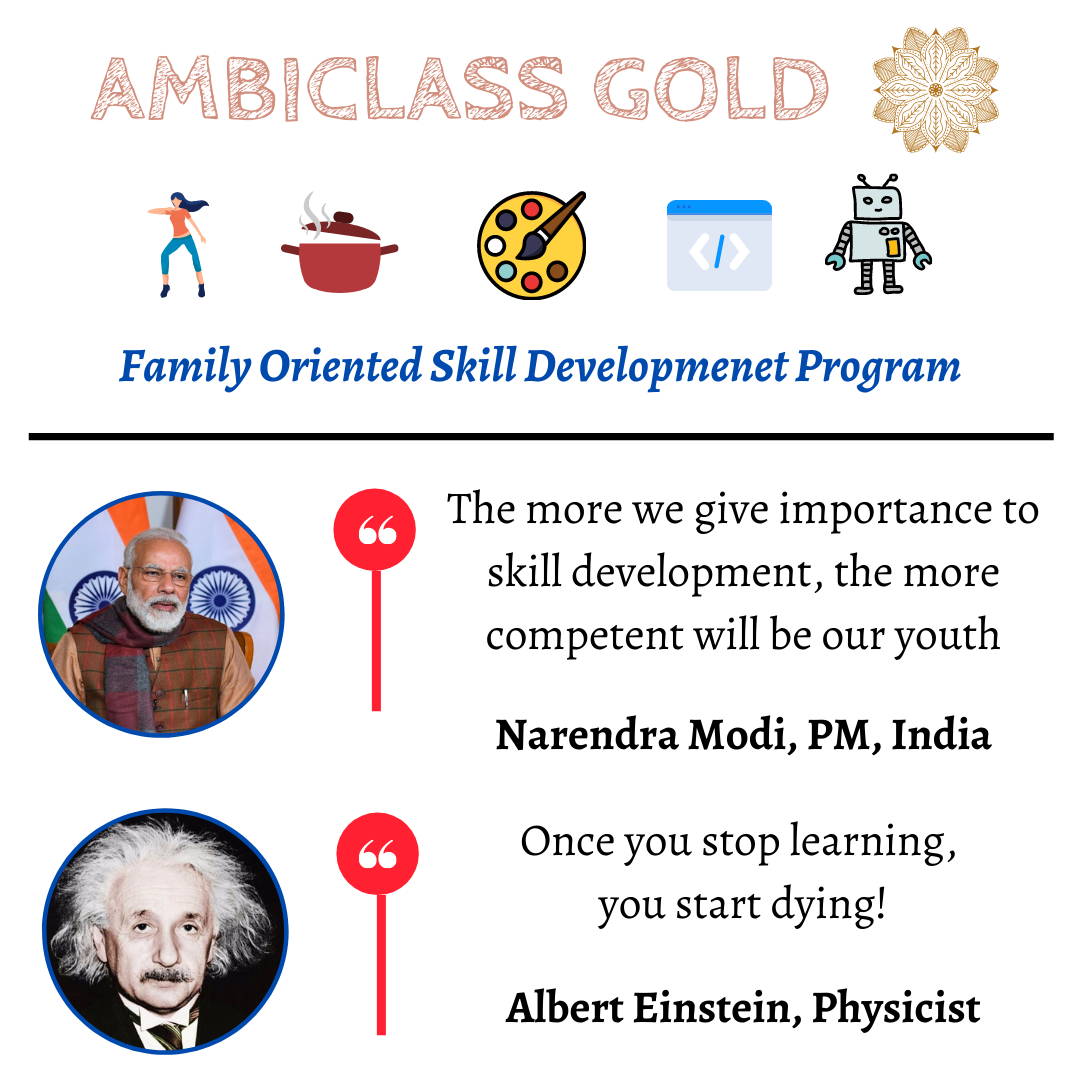 One pass to learn it all - Get access to four live courses with your AmbiClass Gold. We believe in skills development of everyone for their better future. Offering you our best family oriented product - AmbiClass Gold to explore multiple skills at beginner level and gauge your interest.
Additionally, we would be happy to cater your requests for advanced sessions or one to one coaching with our Gurus. If you have a skill in mind which you feel should be included in Ambiclass Gold, do let us know!
So what you waiting for? Get your AmbiClass Gold quickly. Limited spots only! Book a ticket for your family quickly!

Entire Family | English & Hindi Mix
---



---
---
MEDIA COVERAGE
Our story was covered in news and magazines recently to highlight the efforts of meaningfully touching young minds. We are highly committed to the overall growth of youngsters for creating better and responsible citizens.
No, I won't click. I'm not interested in growth and would rather order a large Pizza!

No, I won't click. Pizza plan is still ON!

Duh, still having second thoughts!?

We recommend Dominos! (P.S. We hold Jubilant Foodworks stock!)